I remember the night Pi Society launched in a stunning, beautifully lit venue on the Exeter quay-side. It was an unforgettable night; spent in the company of friends & well-known business leaders from across the city.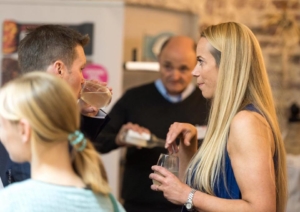 A deep sense of optimism filtered through the room; the 100 or so guests, mingling with ease and a natural fluidity in an atmosphere rooted in anticipation. The energy, undeniable.
Nicky Dunn, the founder & woman behind this much anticipated new venture, took to the stage with confidence & a natural charm that connected with and touched hearts throughout the room.
At this point, I had known Nicky for a few years, initially having met her at a leadership development course in Exeter. At the time, I was working with Rugby World Cup on a legacy project for RWC2015. My background as a writer had attracted the attention of legacy leads and World Rugby senior leaders.   I was leading a truly purposeful legacy, working with colleagues throughout the professional game and loving life.
On meeting Nicky, I instantly saw something special; an elegant charm paired beautifully with proven business & leadership skills. Time in her company had an energising effect, nurturing a sense of respect & trust.
Over the following six years, as our careers developed and grew, she became a strong presence & support within my professional network. I interviewed her several times in my role as Editor in Chief of a leading growth-focused business magazine.  And, with great pride, I named her as one of the 100 most influential businesswomen in Exeter in 2018.
Four years later, with a podcast, over a hundred interviews with high performers, and an ICF coaching qualification under my belt, it is my absolute pleasure to join Nicky in the next phase of Pi Society.
This Autumn, I will be supporting Nicky as she moves her business into Bath & Bristol. Two exciting areas of development for Pi. Both of which hold a special place in my heart, with my two eldest sons graduating from UWE & Bath next year.
A clear and natural path
While I may not have identified or foreseen it, looking back, there has been a clear and very natural path to this point.
Through my work, I have been privileged to watch the growth of some truly exciting brands.
When asked about the key to that growth, my answer is clear.
In my experience, it lies in creating a solid foundation.
As a leader, your vision for the company must align with your deepest values. In addition, your team must also align with and have a clear understanding of that vision from the start.
 The team culture you develop has to allow for growth and be rooted in support & respect.
Ensuring that the needs of each client are valued and deeply understood is paramount. Spending time truly understanding the needs, desires, and hopes of your clients & team is paramount in developing any brand.
I know I also speak for Nicky when I say that this understanding, rooted in positive psychology, forms our personal & professional foundations.
It is these very values and understandings that also lie at the heart of every successful relationship.
I am honoured to be supporting Nicky & her team as they build on the success of Pi Society, bringing my skillsets & leadership qualities to the table, and letting the hopeless romantic in me run wild in the process.
I believe that we are all capable of stepping into our optimal selves. And that taking chances, investing in our growth & releasing limiting beliefs are integral to showing up as our best selves.
While you can do this alone, sharing the ride with a partner who has your back and who loves you intimately & deeply for who you are now, as much as who you may become, is one of the most precious gifts.
That genuine, soul-mate love is within reach for us all.
Backed by breakthroughs in science and the understanding that we can actively alter neural pathways in our brain, I know it is.
However, I am also very aware that life, and the intrinsic journey it takes us on, can at times make us weary and doubtful of finding love, leading us to focus instead on its absence.
My role with both Pi Society, and in my private coaching practice, is to ensure your focus remains on possibilities and the opportunities presenting themselves to you.
It is to transform lives through powerful coaching & conversation that ensures you find the love you deserve.
I look forward to meeting you, getting to know and understand you, and supporting you on your journey to lasting love.
Here's to winning the inner the game and a successful match ahead.
Please click here to book in a 30 minutes introductory call with Tracey.
https://pisociety.co.uk/wp-content/uploads/2021/09/Bristol.jpg
1333
1999
Tracey Duke
https://pisociety.co.uk/wp-content/uploads/2021/03/PDF-LOGO-845x321.png
Tracey Duke
2021-09-29 15:07:53
2021-09-29 15:11:32
Foundations for life, love and everything in between