How to deal with Loneliness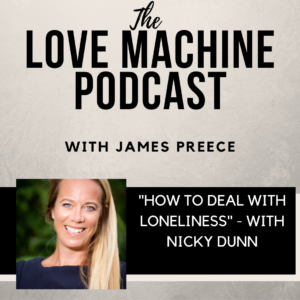 Nicky Dunn spoke to James Preece this week to talk about loneliness and learning how to deal with loneliness and start meeting more people?
According to a January 2020 survey of 10,000 Americans ages 18 and over conducted by Cigna, 61 percent of adults three in five reported they are lonely. That number has only grown larger since the pandemic.
In this episode, James is joined by Nicky Dunn. Nicky is the founder of Pi Society – a professional Matchmaking Agency in Devon
Together, they discuss topics such as:
Why are we so lonely?
Does online dating make things worse?
Where can you start meeting new people?
Can singles events really work?
What steps can you take to stop being lonely today ?
Nicky's top tips for Loneliness:
Allow yourself to be lonely
Do things that you enjoy, by yourself. Often, the act of being kind to yourself and loving yourself helps ease loneliness.
Remember you're not alone in your loneliness
Other people are probably feeling lonely too. Reach out – text a friend, ask them how they are, ask if they're struggling. You can admit that you're struggling, or that you're lonely, and you'd love a chat.
Know that loneliness isn't something to feel ashamed of
All over the world people are struggling at the moment. This is a great chance to be open and allow ourselves to express some of our vulnerabilities, because so many others are dealing with the same problems.
Find what works for you
There are small, practical things I've found really help me when I'm struggling with loneliness:
Turning on a radio first thing when I wake up so I hear voices and I feel connected to the world
I always have a book on the go, so there's a world I can retreat to with people in it
I watch old TV shows – ones I used to enjoy, or know really well. It brings me comfort, being surrounded by familiar characters and plot-lines
Going outside, walking or running, playing with animals (stroke a cat! Pet a dog!).
James also gives his top dating expert tips on how to truly overcome loneliness and start living your life.
Listen here.
Once you've listened, don't forget to download his latest book for FREE from James' dating coaching website.
https://pisociety.co.uk/wp-content/uploads/2020/09/LM-NICKY-1.png
1080
1080
Nicky Dunn
https://pisociety.co.uk/wp-content/uploads/2021/03/PDF-LOGO-845x321.png
Nicky Dunn
2020-09-14 10:25:43
2020-09-14 10:31:27
How to deal with Loneliness