Lucy's Challenge – update!
Lucy & Charlie Diabetes UK Swim22 update
At last, the sea has finally warmed up. Which does tend to have its downfall as we start to see the seasonal jellyfish sharing our swimming waters.  I for one am scared of them, although I am constantly being told not to worry when they appear and fear not!  I pray I will not drift in their way, albeit I was stung two weeks ago fortunately it was nothing worse than a nettle rash.
After the recent relaxation of Covid restrictions, it is great to see Devon and Cornwall Wild Swimmers meeting regularly twice a week at East Tinside Beach in Plymouth.  It is good to see familiar faces and swim safely amongst many strong swimmers.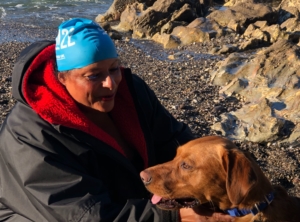 I continue to swim 4 or 5 times a week, Juggling my swimming around a busy homelife with my family and hectic work schedule. Generally, I manage to swim 2 – 3 miles per week which will set me on target to reach 22 miles by the 22nd of October 2021 in aid of DiabetesUK.
However, at times I find it hard trying to juggle my swimming  against  high tides, bad weather, plus a busy schedule . Every time I swim, I try and push myself a bit further and increase the total miles swum to help me complete the fundraising challenge.
The only disappointment I have had, is to reduce my swimming time with my buddy, young Charlie, my fox red Labrador as he has become a huge distraction, demanding my attention to keep throwing the ball in to the sea. I do however, plan in our special sea swimming playtime dedicated purely to him.
I am hugely grateful to my wonderful swimming colleagues, who's  tremendous encouragement and support drives me on in undertaking this fundraising challenge which I am confident I will achieve to raise money for Diabetes UK, who have been a saving grace to myself and so many others.
I would like to also say a huge thank you to everyone who has sponsored me. I am extremely grateful, for your confidence in me which helps me persevere and overcome daily challenges and obstacles in being able to complete my first swimming challenge to raise money for such a worthy organisation.
Just to give you an update, I have managed to swim 9 miles in 3 weeks. So onward and upwards, another 13 miles to go.
Let's hope the weather is kind to us all over the Summer season.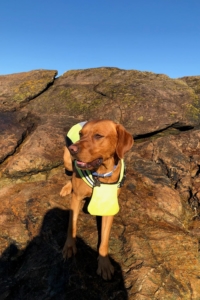 https://pisociety.co.uk/wp-content/uploads/2021/08/Lucy.jpg
1649
2226
Nicky Dunn
https://pisociety.co.uk/wp-content/uploads/2021/03/PDF-LOGO-845x321.png
Nicky Dunn
2021-08-11 08:51:06
2021-08-11 08:51:19
Lucy's Challenge – update!