Why are nice guys so useless at online dating? 
Trying to find a nice guy online is a challenge that women face.  I think we can agree that there are an awful lots of frogs out there and not many princes – and yes, I'm sure it is true for men too.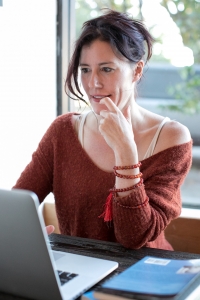 How often have you had a good online conversation with someone and think all is going wonderfully well only to find that they have disappeared, never to be heard of again?
Is it true that men go online as a last resort once they have exhausted all other options and are often not looking for that life partner but rather a quick fling? Or are they looking to find that lasting relationship.
Traditional dating is a rare thing today having been replaced by a huge array of options that are confusing and just darn right overwhelming – Tinder, Bumble, Grinder, Match, E-harmony, Telegraph, Guardian, Elite… the list is endless and new dating apps pop up all the time .  Which one do you use?
Whatever your sexual orientation, age or desire there is an app that will fulfil your every wish.. or so you might think.  Just be careful you don't mix them up or you could land in hot water.. Grinder instead of Tinder could lead to a world of pain!  Dating apps don't always satisfy anything long term except for those lucky few.  We need authentic relationships.
The online dating world is a game but unfortunately not of two halves.  The sex ratio is skewed in favour of men – there are many more single women out there than men which is puzzling.  In addition, men are very visually driven and quick to judge.  I am generalising so this doesn't apply to you all before you protest. Men struggle with communication, emotional language and don't always listen.  We are all guilty of painting a picture of someone before we meet and are frequently disappointed when we women actually do.  It can be an extremely frustrating game.  We have lost so many of the wonderful aspects of traditional dating that sometimes it feels that physical intimacy is all that is left.
So are men shallow?  Too visual?  Too quick to judge, to delete or to swipe left and cast you into oblivion?  I think men are just too overwhelmed by choice and do you know a man who is good at making life decisions?
To all you single men out there, let's get back to traditional dating or today's version of traditional dating.  Gone are the smart cocktail parties, balls and house parties of old but please let's leave this online dating game behind and move back to authentic social get-togethers.  It is a wonderful opportunity to build friendships with like-minded single people and who knows, your perfect match just might be there.  Book in, bring some single male friends and get out there or you might still be swiping left and right in ten years' time eating your microwave supper in front of Holby City!
See our range of Social events on our Social page and we are sure you will not be disappointed!  If you are a man looking for love and companionship, you can come along at half price to our Cocktail evening on Thursday 26th October at the wonderful Hotel Du Vin, central to Exeter.
We look forward to seeing you there!