Pi Society's very first Blind Date
I run a Matchmaking and Singles Social events business based in Devon and like so many businesses in Exeter and around the world it is based around connectivity and social contact and loneliness have really been emphasised through Lockdown. I started Pi Society with loneliness in mind and how damaging it is to our society.  We know that loneliness doesn't just affect the older generation, the younger generation are admitting to it too. It poses a greater threat to health than obesity, and its life-shortening effects are comparable to smoking 15 cigarettes a day.
We have just celebrated our third birthday and we have worked so hard over the last three years to create a safe environment for like-minded people to meet, interact and create long term friendships and relationships.
Nearly overnight this changed dramatically. This was hard to swallow and I just didn't know what to do. I was going to either close the business or furlough myself and not work. Determination and passion for people and with the craving of sense of purpose in these unprecedented times, I persevered and pivoted the business to create so many different on-line events to continue connecting people together. These have ranged from Speed Dating Nights, Games Nights, Murder Mystery Nights, Quiz Nights, Meet the Author evenings, Cookery Classes, Fitness and Yoga evenings
Over the last month, we have seen a large increase in new members who have been disheartened with the on-line dating apps' experience and would like someone to take them through the dating process. People don't want to see fake profiles or virtual people; they want to talk to real people and that is why we are different. We offer a service that creates the opportunity for longer-term, more meaningful relationships. We have now successfully matched over 60 couples in long term relationships around Devon. We have also forged new friendships and great relationships with local businesses through over 500 events over three years.
Last Saturday we created a LIVE Blind Date night to not only entertain people but to bring more people together. The idea of the evening came from one of my colleagues, Sarah, who said, we do so many different events, why don't we create a "Blind Date" Night?
When lockdown was announced I joined an incredible community of like-minded business people called The Empowerment Group and met a wonderful lady called Lucy Matthews. She had told the group that her lifetime ambition was to be Cilla Black one day and when I get an idea, I like to see it through and make it happen! We were also joined by the amazing Matt Young too who played the part of "Our Graham".
Please click on the picture below to watch the video.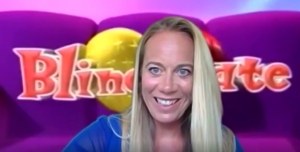 If you would like to find out more about what we do please do drop us a line. We would love to hear from you.
www.pisociety.co.uk or email: info@pisociety.co.uk
https://pisociety.co.uk/wp-content/uploads/2020/07/thumbnail-scaled.jpg
1298
2560
Nicky Dunn
https://pisociety.co.uk/wp-content/uploads/2021/03/PDF-LOGO-845x321.png
Nicky Dunn
2020-07-07 09:22:05
2020-07-07 09:43:44
Pi Society's very first Blind Date