I think we can all agree that trying to meet people in this day and age is virtually impossible.  Gone are the days of large society parties, we don't 'hang out' in bars as women, and with the divorce rate now at an all time high, how the hell do you meet a like-minded person? 
Online dating is here to fulfil our dreams and desires… or is it? And does it?
It is now socially acceptable as a 40+ divorcee to sign up to one of the many online dating sites, often encouraged by your children or a friend…"Go on.. you've got nothing to lose.  It will be a bit of fun!" But have you and is it?
So you have rather tentatively put your toe back in the dating pond having taken a selfie which sort of looks like you.  Or you resort to using a photo that is a few years old.. well you haven't changed too much and you're only slightly heavier than you were ten years ago.  Your friends all tell you that you haven't changed a bit and surely they must know!  You fill in your profile with the relevant information.  Now, let's see… hobbies… well I skied once rather badly so I'll stick that in, walking .. well I walk to the shops so I will add that , cooking – yes I do but not saying it's edible, reading – yes I can, friends – yes have some of those and soon you have a compelling profile which is bound to attract some Adonis or Aphrodite.  So now you push the button and you wait…
And it's agonising.. a message.. really!! I thought I put no older than 60 and he must be 80 if he's a day!  Or I thought I added looking for a slim, attractive partner and she looks like she might be a member of the Olympic shotput team. It always amazes me the sort of pictures people put online.. a dreadful selfie, a picture that looks like a mugshot or a picture of a paedophile at best.
A wink, a smile, a message .. "hello there"  and another little flutter – well this might be the one.  Eventually if lucky, you start having a chat with someone who sounds reasonably intelligent and decide to meet for a coffee at an agreed destination.  You arrive and wait feeling rather nervous and anticipating meeting your soulmate.  Half an hour passes… I'm sure we said 12.. then a text.."So sorry, something unexpected has turned up and I won't make coffee".  It has taken you an hour to drive to your destination Starbucks (other coffee shops are available) and now you have another hour home.  More banter and chat and you decide to try again.  You take up your position at the corner table so you can keep an eye on who arrives.  Nobody resembling his or her description arrives but then someone comes in looking rather nervous.. "Are you waiting for someone?"  Yes I am but not anyone who resembles you at all.  But it is your date… slightly older and definitely quite a bit heavier than expected and you want to leave immediately.  However, you struggle through coffee and a rather stilted conversation and leave promising to be in touch and thank you so much but knowing that you will delete the number the minute you are out of sight.
To be fair, they aren't all like that and there are many people who have met their soulmates and life partners online… However, it is not always a very safe option and it certainly can be quite a game and not always one that is enjoyable. If you have been unlucky enough to go through the rather torturous process that is online dating then you might decide on a different course of action and that is where agencies like Pi Society come into play.
Personal introductions cut out the online noise and aggravation allowing you to enjoy organised social gatherings where friendships are cultivated and your potential date might just be the one!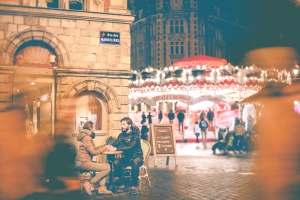 Go on.. give it a go.. You know you want to!
Click here to come along on Thursday 21st September to see what its all about!
Written by Clare Agertoft 
https://pisociety.co.uk/wp-content/uploads/2019/07/people-2577946.jpg
2574
3861
Nicky Dunn
https://pisociety.co.uk/wp-content/uploads/2021/03/PDF-LOGO-845x321.png
Nicky Dunn
2019-07-01 21:04:00
2019-07-01 21:52:29
The Dating Game