Your search for a new partner is the beginning of an exciting journey; however, ensuring security within your personal life is essential. As a member of the ABIA – Professional Matchmakers and Introduction Agencies Network to encourage a culture of well-being and respect between clients within an honest and transparent environment.
Download the tips and safety guidelines from the ABIA by clicking on the photo link below.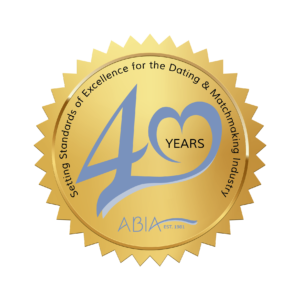 What is a matchmaking service?
A matchmaking services takes the personal legwork out of dating by outsourcing "the search" for interesting, like-minded individuals to a team of professionals.
Is this another online dating service?
No, this is not on-line dating. It is not free-dating either. Pi Society is a personalised matchmaking service. Instead of spending hours searching through online profiles or swiping screens. Our matchmakers get to know you and then hand select your matches. It's personal, private and effective and not on-line.
How do I get started?
Please do get in contact with us at info@pisociety.co.uk and we will provide you with detailed information about our services and arrange to meet you on an informal basis to get to know you, either at the comfort of your own home or in an appropriate location. Our aim is to learn more about you, your background, personality, lifestyle, interests and of course the characteristics of your ideal partner.  Please also visit our membership page for further details, click here.
The Face to Face Interview
The interview will take approximately two hours and will be held at a location convenient to you or we will be conducting zoom interviews during the Lockdown periods.
We will ask all the right questions to understand you and your personality and what makes you tick and the ideal partner you are seeing. We won't be firing questions at you, as it will feel more like a chat.
Two hours does seem a long time, but you will be surprised how quickly that time goes. The process also allows us to evaluate factors like personality, values, emotional availability, body language and physical appearance, of all which would be lost with just an on-line experience.
Write your profile
We can arrange a professional photographer to take Professional Portrait photographs or we can take pictures on the day of the consultation.  Your Personal Dating Consultant will then create your Personal Profile usually within 48 hours post interview, based around the information you provide and agree how you would like to be matched. Please visit our list of our amazing photographers, please click here.
How will I be matched?
Your professional matchmaker will hand-select matches for you based upon the information we discuss in your initial interview combined with the on-going feedback we receive from you after every date and our matchmaker's intuition. The feedback we receive from you after every date is an important part of our dating process as it allows us to fine tune your matches!
The Date
Once we have found a potential partner.  During the lockdown period we are exchanging telephone numbers so that people can make their own arrangements and get a chance to get to know each other.  We usually suggest different meeting places and will also include arrangement of the meeting and booking tables if required.
Feedback
After your date, your Personal Matchmaker will spend time with you discussing the introduction. Please do let us know how the date went as soon as you can and how you want to move forwards. You'll be encouraged to be completely honest about your experience, so that we're better able to fulfil any current or future needs you have. Clear and open communication helps us to refine our search and work towards finding you that special someone.
What happens if sparks fly?
Were there sparks? Great! Contact your matchmaker to let them know you are going to give your new relationship some time to blossom. Of course, not every match is a success. But we know our signature dating approach will renew your excitement and optimism about finding someone special.
So, no sparks? No problem. We'll get to work arranging your next match.
After bringing over 38 couples together, we know that having someone on your team helping you navigate you to getting you closer to real chemistry and that the real fun is seeing how things click face-to-face.