I run a Matchmaking and Singles Social events business based in Devon and like so many businesses in Exeter and around the world it is based around connectivity and social contact and loneliness have really been emphasised through Lockdown. I started Pi Society with loneliness in mind and how damaging it is to our society.  We know that loneliness doesn't just affect the older generation, the younger generation are admitting to it too. It poses a greater threat to health than obesity, and its life-shortening effects are comparable to smoking 15 cigarettes a day.
We have just celebrated our third birthday and we have worked so hard over the last three years to create a safe environment for like-minded people to meet, interact and create long term friendships and relationships.
Nearly overnight this changed dramatically. This was hard to swallow and I just didn't know what to do. I was going to either close the business or furlough myself and not work. Determination and passion for people and with the craving of sense of purpose in these unprecedented times, I persevered and pivoted the business to create so many different on-line events to continue connecting people together. These have ranged from Speed Dating Nights, Games Nights, Murder Mystery Nights, Quiz Nights, Meet the Author evenings, Cookery Classes, Fitness and Yoga evenings
Over the last month, we have seen a large increase in new members who have been disheartened with the on-line dating apps' experience and would like someone to take them through the dating process. People don't want to see fake profiles or virtual people; they want to talk to real people and that is why we are different. We offer a service that creates the opportunity for longer-term, more meaningful relationships. We have now successfully matched over 60 couples in long term relationships around Devon. We have also forged new friendships and great relationships with local businesses through over 500 events over three years.
Last Saturday we created a LIVE Blind Date night to not only entertain people but to bring more people together. The idea of the evening came from one of my colleagues, Sarah, who said, we do so many different events, why don't we create a "Blind Date" Night?
When lockdown was announced I joined an incredible community of like-minded business people called The Empowerment Group and met a wonderful lady called Lucy Matthews. She had told the group that her lifetime ambition was to be Cilla Black one day and when I get an idea, I like to see it through and make it happen! We were also joined by the amazing Matt Young too who played the part of "Our Graham".
Please click on the picture below to watch the video.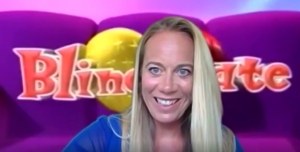 If you would like to find out more about what we do please do drop us a line. We would love to hear from you.
www.pisociety.co.uk or email: info@pisociety.co.uk
https://pisociety.co.uk/wp-content/uploads/2020/07/thumbnail-scaled.jpg
1298
2560
Nicky Dunn
https://pisociety.co.uk/wp-content/uploads/2019/06/PI_SOCIETY_LOGO.jpg
Nicky Dunn
2020-07-07 09:22:05
2020-07-07 09:43:44
Pi Society's very first Blind Date

Lockdown may have stopped Devonians from meeting physically, but it certainly has not dampened the spirits of singles looking for love. And to inspire them now that real dates can start again in Devon, the h
ugely popular TV show 'Blind Date' is back for a special evening on Saturday 27th June, on-line via Facebook and Instagram Live. Organised by the matchmaking and social events company, Pi Society, they are currently looking for Devon-based contestants aged between 45 and 65 to take part.
"We have seen a huge increase in people joining us during lockdown as those who have spent weeks on their own realise the importance of love and companionship in their lives. So, we thought it would be great fun to resurrect the fantastic tradition of Saturday night TV of the past, with a new version of Cilla's hilarious 'Blind Date'," comments Nicky Dunn, owner of Pi Society.
"Ours will run on social media so that everyone can access it, and it will be hosted by the Totnes resident and actres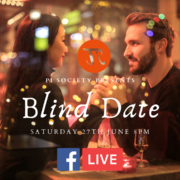 s, Lucy Matthews who will be encouraging the lovely contestants to show off their personalities and answer the three questions as excitingly as possible!
"She will even have her very own 'Graham' to recap on all the answers and help the love-birds make the difficult decision of who to pick for their blind date," she said. "And the lucky couple will have a gorgeous special date all set up for them as their prize!"
Pi Society is looking for eight single men and women living in Devon, aged between 45 – 65 and selecting contestants now. If this is you and you are available to take part on Saturday 27th June at 8pm via Zoom, please fill in the following registration form at https://share.hsforms.com/1EVQ3e15sTUu6KTnK9D1LLQ2fhyt.
Or for more information please contact Nicky Dunn on 01392 241142 or nicky@pisociety.co.uk
https://pisociety.co.uk/wp-content/uploads/2020/06/Blind-Date.png
1080
1080
Nicky Dunn
https://pisociety.co.uk/wp-content/uploads/2019/06/PI_SOCIETY_LOGO.jpg
Nicky Dunn
2020-06-02 13:58:33
2020-06-02 13:58:33
Do you have what it takes to be on Devon's very own 'Blind Date'?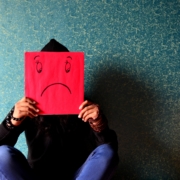 Since the start of the Covid Crisis, we have been asked to follow social distancing guidelines, to self-isolate, to stay at home and, for some, to shield completely.  Whilst we need to be socially responsible and stick to current guidelines, this new normal has had a huge impact leaving many of us feeling lonely.
We know social interaction is vital for our wellbeing.  We are social animals and we need social contact to thrive.  "No Man is an Island", said John Donne back in the seventeenth century and it's as true today as it was then.  Limiting social interaction can seriously impact on our mood if we don't consciously work to maintain that connection by other means such as Zoom calls or messaging.
There are all kinds of small day-to-day interactions we don't normally think about which give us a sense of connection, such as buying a coffee or going to the gym.  Some of us rely on these interactions for daily connection more than others and feel the impact of self-isolating much more than those who are able to maintain points of connection at home with their partner or family.
Loneliness is a growing epidemic in the UK with 2.4 million adults feeling lonely, according to data from The Office for National Statistics.  We now also know that loneliness is a growing health epidemic.  The University of Chicago found loneliness to be twice as bad for people's health as obesity and almost as great a cause of death as poverty. A survey conducted by the American health insurer Cigna, found widespread loneliness with 54% of respondents saying they feel no one knows them well, and four in 10 reported they "lack companionship," their "relationships aren't meaningful" and they "are isolated from others." The same study found that loneliness has the same impact on mortality as smoking 15 cigarettes a day.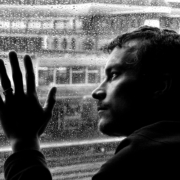 Loneliness isn't simply about being on our own – some people are happy alone and we all enjoy a bit of solitude from time to time. It's also not about the number of people you know, it's about the strength of those connections.  In fact, the Harvard Study of Adult Development, the longest longitudinal study of what makes a good life spanning 80 years showed that the single most important factor in leading a healthy, happy life was the quality of our relationships.
So what can we do if we find ourselves swept up in the loneliness epidemic? Firstly, seek out other people like yourself.  There are so many tools now for finding people with shared interests be it cycling, hiking or bog diving! If one group doesn't work for you persistently try another. Kindness goes a long way – we all have the power to offer generosity of spirit to all we come into contact with.  It's an attractive quality that pulls people in like a magnet.  And of course, let's not forget, come and join us for the next Pi social!
Written by Gill Hayes. https://www.gillhayes.co.uk/
https://pisociety.co.uk/wp-content/uploads/2020/05/depression-84404-scaled.jpg
1696
2560
Gill Hayes
https://pisociety.co.uk/wp-content/uploads/2019/06/PI_SOCIETY_LOGO.jpg
Gill Hayes
2020-05-23 09:58:00
2020-05-23 10:12:06
Loneliness in the time of Covid