Complimentary Coaching Sessions with Tracey Duke
Following the release of part two of our podcast on mindset, we are currently offering both our current and new clients a one-hour complimentary pure coaching session with mindset coach Tracey Duke.
Through private 1:1 sessions, via zoom, Tracey creates the space to work with you to powerfully break through & let go of limiting beliefs that are holding you back and no longer serving you.
As much as we might like to think otherwise, the reality is that being free of the logistical ties of a previous relationship does not guarantee you'll change your mindset around them. You're not suddenly going to show up in a new relationship as a different person, with new beliefs, if you haven't done the work beforehand.
You may leave the relationship behind, but you will always take yourself with you, and that includes both your positive and negative experiences of it.
And then, when you do put yourself back out there and open your heart again, you will likely face rejections, setbacks, and the occasional broken heart.
What matters is how quickly you bounce back and the lessons you take from each encounter.
It is always your mindset, first and foremost, that will affect the way your relationships play out.
Doing the work ahead of time to get your mindset in the strongest place, gives you the best possible chance of success.
Tracey works to the ICF codes of conduct and ethics, which means your sessions with her are 100% confidential.  Her sessions will challenge your thinking, open blind spots and transform your relationships.
You can check out her interview on the Learn to Love Podcast here –
Find out more about her work here – www.the-inner-game.com
Book your session here – https://calendly.com/traceyduke/explore
These complimentary sessions are available throughout the summer months through to 31st September 2021, one per client. 
https://pisociety.co.uk/wp-content/uploads/2021/07/Tracey-Duke-Profile-scaled.jpg
1706
2560
Nicky Dunn
https://pisociety.co.uk/wp-content/uploads/2021/03/PDF-LOGO-845x321.png
Nicky Dunn
2021-07-15 15:24:38
2021-07-15 15:25:24
Complimentary Coaching Sessions with Tracey Duke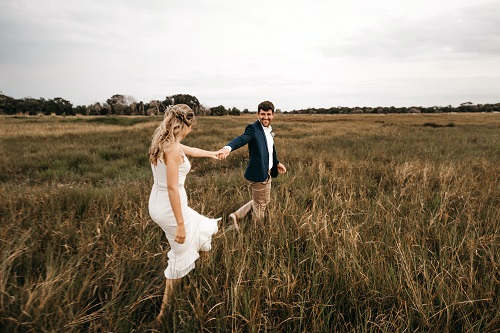 The UK's most popular garden walk dates
We have spent a lot of time indoors recently and getting out into nature has been our way of surviving the challenges we have faced. Now we can meet with someone from a different household again and begin that dating process; going on a date walk is the perfect option. Fortunately, in the UK, there are many, many places you can go that are perfect for connecting and conversing. With over 250 parks and gardens and more than 2500 miles of National Trails, there is so much to see.
If you are sold on the idea of a romantic walk as a potential date, here are some places that you might want to try.
Stourhead
If you have ever been to the Cotswolds, then you know that it is a stunning part of the country. Everywhere you look, something is stunning to behold. Stourhead is a landscaped garden that comes out as the most beautiful in a place where everything awes you. The Grade 1 Palladian mansion and gardens are maintained by the National Trust. The grounds are an array of flowers, woodland, farmland, monuments, bridges, temples and more. If you are looking for somewhere to end your walk, try the lake – it is wonderfully romantic.
Iford Manor Estate
Sited in Bradford on Avon, Wiltshire, Iford Manor Estate is a historic garden designed by Harold Peto over a hundred years ago. There are influences in the garden from across Europe, and it is a site renowned for its Japanese site. One of the most romantic places in the country has to be one of the terraces and the view you will see over the Frome Valley – there is no better place to fall in love.
Scotney Castle
Based near Tunbridge Wells, Scotney Castle, Lamberhurst is a stunning 14th-century castle – complete with a moat. There are many options for your date, from the gardens to the woodland and more. However, if you love history, then you have to check out the castle. It will feel like a fairy tale.
Chatsworth House
One of the more well-known National Trust properties, Chatsworth House, is located in Derbyshire. First, there is the 300-year-old house, which you can tour if you book. However, better still is the 105 acres of surrounding land with rock gardens, sculptures, water features and even a maze. It might be a good idea to stick to the signposted walking trails on your first date, as getting stuck in a maze with someone you decide you don't like is going to be a tricky situation.
Chelsea Physic Garden
Chelsea Physic Garden is a strange place in many ways. First, it is an absolute oasis of calm in the middle of busy London. You would not tell in the heart of the garden that you are in the centre of the capital city. Second, it is also a place of medicine and science, as opposed to merely beauty. A garden was established to grow and study plants for medicine and still contributes to ongoing scientific study. Finally, there is a lot to keep a conversation going in this garden – not least the more than 5000 plant varieties available to view.
Buscot Park
With a house, extensive woodland filled with walks, and the water gardens and Italian architecture, Buscot Park is stunning. It is built for dating couples, as it is drenched in romance. Check out the woodland avenues for any intimate moment of your walking date; it will last in the memory more.
The house and gardens have a chequered history, as a past owner was driven to bankruptcy in his desire to create the very model of an agricultural estate. Fortunately, with the twists and turns of history, Buscot Park made it into the hands of the National Trust.
Belvoir Castle
Another castle, another fairy tale location. Belvoir Castle is in Grantham, Leicestershire and is home to many gardens focused on different themes. The Japanese woodland is a place of tranquillity, and the spiral walk a focal point. You can spend your date exploring the cultivated gardens, or you can take one of the trails that wind out into the landscape. Alternatively, you can sit down in the Engine Yard centre and enjoy a coffee and some eye contact as you continue to enjoy your time together.
Walk your way to happiness!
Walking in one of the UK's most beautiful and historic locations is the perfect date. Walking side by side and with the chance to hold hands, this has to be one of the more romantic ways to spend your date.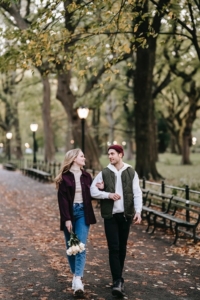 https://pisociety.co.uk/wp-content/uploads/2021/06/PIC.jpg
333
500
Nicky Dunn
https://pisociety.co.uk/wp-content/uploads/2021/03/PDF-LOGO-845x321.png
Nicky Dunn
2021-06-24 13:43:00
2021-06-24 13:43:00
Walk your way to love!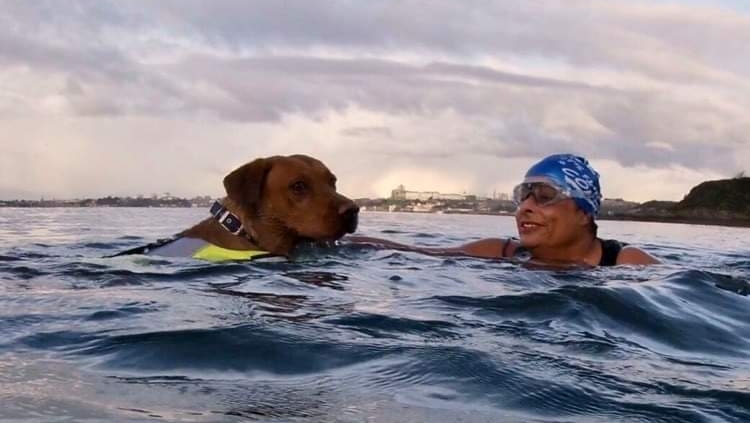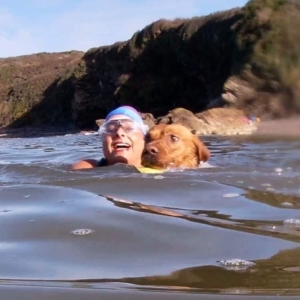 I have been a Business Development and Sponsorship Manager for over 20 years. Working with creative designers, marketing departments and sales teams, on cross-departmental planning and responsible for implementing and driving specific projects and marketing campaigns working to tight deadlines.
I have always been driven and focused on achieving outstanding results and always open to new challenges and opportunities. However, I did not expect the challenge I was about to face after being diagnosed with diabetes. I had become extremely poorly, and it was necessary for me to make many serious lifestyle changes to manage an extremely intrusive disease which had thrown my entire
life into turmoil.
One lifestyle change I made a year ago was to take up wild sea swimming which has played a significant part in helping my mental and physical wellbeing during my low periods and helping me manage my unstable diabetes. This was the reason I decided to sign up take part in Swim22 in support of Diabetes UK. There are over 4.8 million people living with diabetes in the UK, the complications of which lead to over 500 premature deaths every week.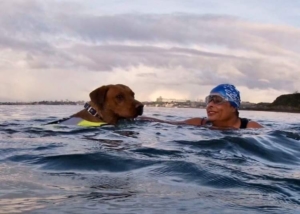 I am eternally grateful for the exceptional care and support I receive from Derriford AAU Department and the diabetic Nurses at Yealm Medical Centre. In return I am going to put my goggles on and start increasing the distance I swim in the sea with my loyal supporter and buddy Fox-Red Labrador Charlie and my other swimming buddies to help me train to clock up the distance to raise money to fund Diabetes UK research breakthroughs and support those living with diabetes.
I have enjoyed swimming during the winter months having been taken under the wing of some extremely experienced swimmers. Swimming has given me so much freedom whilst at the same time helping me to improve my self-confidence and motivation to take up the challenge and give something back.
Charlie and I would like to keep you posted and share with you with our regular updates on how our swim training is going in preparation for our fundraising campaign which starts on the 22nd July – 22nd October 2021.
So, when you see Charlie and me swimming at Mountbatten Bovisands, Wembury, Tinside, Firestone Bay, or Tinside do give us an encouraging wave.
If you would like to sponsor Lucy, please click here.
We look forward to sharing our journey.
Lucy & Charlie
https://pisociety.co.uk/wp-content/uploads/2021/05/IMG_9447.jpg
536
750
Nicky Dunn
https://pisociety.co.uk/wp-content/uploads/2021/03/PDF-LOGO-845x321.png
Nicky Dunn
2021-06-10 12:43:10
2021-06-10 12:43:10
Lucy's Wonderful Challenge